McCuen Properties' land at Mather Commerce Center encompasses approximately 20 acres for 50,000 to 300,000 sq. ft. build-to-suit office buildings plus an additional 10 acres for small office buildings ranging from 5,000 to 40,000 sq. ft.
Competitive lease rates and terms are provided in an excellent location. Dining, lodging, recreation and housing in all price ranges are nearby. Mather Airport offers general aviation facilities and air cargo users superior facilities and one of the longest runways in the country.
The 1,400 acre Mather Regional Park is destined to become a plethora of natural beauty and recreation activity areas for the public.
Independence at Mather by KB Home offers home buyers a unique neighborhood environment with quality built residences.
Mather Commerce Center has established itself as a premier business center for office users and is located on the fast growing Highway 50 Corridor just 10 miles from Downtown Sacramento.
The landmark office campus is equipped with unique worker-friendly spaces, exterior meeting and recreation areas and a central pedestrian parkway. Dual power feeds are available from two separate substations. Three fiber optic providers are available. One RT bus route stop adjacent and connect to Sacramento Light Rail. Mather Sports Center and La Bou Restaurant are a short walk from Mather Commerce Center.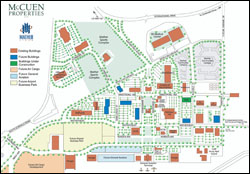 Download Site Map (PDF file)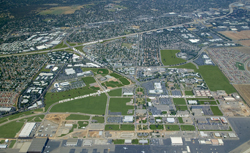 View Mather Aerial (1024px x 626px JPG file)

View Mather Aerial (Large Version, 4052px x 2477px JPG file)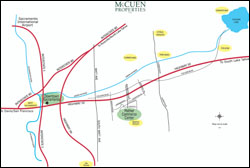 Download Regional Map (PDF file)