Rocklin Professional Center is located in the City of Rocklin northeast of Sacramento. The single story buildings currently planned will reflect modern architecture, popular with small company owners.
The buildings are well located in this growing area; a desirable place to live and work for many years to come.
During the past few years small owner occupied office buildings have become desirable to medical and other small company owners due to the investment potential and tax benefits associated with real estate ownership, a desire by company owners to have control over costs associated with their work place, and a sense of pride of ownership.
Buildings will be from 3,600 to 10,000 sq. ft. with finishes to meet the occupant's requirements.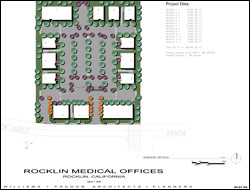 Download Site Map (PDF file)

Download Site Map (PDF file)